Complement your LMS with rich & relevant assessment insights
We know that your LMS is the best tool for delivering relevant training and learning to keep your workforce compliant, competent, and competitive. It's the bedrock of any successful learning program and integral to L&D leaders' success—but what if we told you that you could drive even more value from it?
While many LMS's have some assessment features included, they're often unable to deliver the depth of reporting and the range of assessment formats needed to really push the needle.
Read on to discover how trusted and integrated assessments that reveal rich and relevant data insights are the next step in delivering superior L&D via your LMS.
Quick Links

Tomorrow's challenges and the drive for data
"Six in 10 workers will require training before 2027 but only half of employees are seen to have access to adequate training opportunities today. At the same time, the report estimates that, on average, 44% of an individual worker's skills will need to be updated."

World Economic Forum's 2023 Future of Jobs Report
The recent landscape of work is littered with mass upheaval, from the great resignation to tales of AI saturation and the need to reskill as soon as possible. Of course, this isn't the first time the landscape of work has changed and it won't be the last, but it does highlight that L&D is always required to pivot to meet emerging challenges and trends.
It's why deep data insights that are relevant to your team are so essential and it's how the addition of seamlessly integrated assessment software into your LMS can make all the difference.
Data as a decision maker
Before we can dive into the role of assessments in elevating your LMS offering with data insights, it's first critical to understand the foundations of good data in L&D.
For many L&D professionals, access to actionable data is the holy grail and provides a road map that helps inform key decisions such as:
Employing new hires and organizing team restructures
Identifying leadership qualities
Recognizing emerging skills gaps and tailoring training accordingly
Verifying if regulatory compliance requirements are being met
Ensuring the necessary skills and knowledge required are present in your team
And much more
With so many important decisions relying on the data you collect, it's critical that the data you collect is reliable and can be trusted.
But how?
To deliver data that you can make sound decisions on requires assessment software that appreciates the role of good data, with specific importance placed on:
Reliability: An assessment is reliable if it measures the same thing consistently and reproducibly. A good indicator then is that if you assess the same person twice, they should get the same result
Validity: If you're using data from an assessment to make a decision, then it's critical that the assessment in question measures what it's supposed to measure. So, while an assessment might reliably measure someone's computer literacy, it wouldn't be a valid measure of their ability to operate machinery as computer literacy isn't part of the required skill set
Fairness: A fair test should only measure what it's supposed to measure and also make appropriate DE&I accommodations, for example, supporting those with disabilities or those who are taking tests in their non-native language
Test Security: Test fraud or cheating is a direct attack on the validity of an assessment. If someone is helped with answering a question or steals questions ahead of time, then the results will not properly reflect their skills and knowledge, once again making the data collected from them unreliable. A particularly shocking example of this was reflected in the recent accountancy cheating scandal
These four elements make up the foundation of good assessments. When assessments are valid, reliable, fair and safeguarded from test fraud, you can make data-driven decisions that really push the needle for success for your business
How to ensure assessments can be trusted
Using comprehensive assessment software is a great way to get baked-in trustable data in the following ways:
Assessments that measure what matters
As we mentioned, valid assessment results require valid assessment parameters. If you need to measure someone's health and safety knowledge while operating a forklift, for example, it's very likely you'll need to go beyond a standard written assessment and use an on-the-job assessment format like observational assessments to truly measure what someone understands in real-time.
Questionmark's assessment platform offers a range of assessment types that can help you measure skill-specific competencies with greater authenticity including:
Performance-based testing: For assessing IT skills in an authentic setting – ideal for identifying potential skills shortages
Observational assessments: For measuring anything on-the-job including health and safety competency, pharmaceutical sales knowledge, machine operation, vehicle operation and much more
Fixed-form and randomized assessments by topic: For the creation of niche and industry-specific knowledge and competency testing. Perfect for monitoring skill and knowledge level and easily providing regulatory compliance audit trails
How assessments deliver the data you need
With trusted assessments then, you can take a deep dive into the data and make informed and valid decisions that can propel your L&D to the next level. In doing so, you can elevate your LMS and prepare your workforce for the landscape of tomorrow.
Reports that deliver actionable insights
Armed with a strong foundation of reliable, secure, valid and fair assessment practices combined with skill-specific assessment types, Questionmark can provide superior reporting capabilities that deliver you the trusted data insights that matter to you, including:
Learner feedback: With Coaching Reports, you can gather detailed results for an individual taking an assessment and use it to give in-depth and automatic feedback
Content & Item Bank effectiveness: With robust item analysis and item bank features, you can discover how well an assessment as a whole or a particular question is performing and identify difficulty and inclusivity challenges early on
Transcript reports: Used to track an individual's performance across multiple assessments
Big picture reports: To identify how your L&D assessments as a whole are performing
And much more…
Get in touch
Talk to us to learn more about our full reporting capabilities.
Integrating assessments into your LMS for a complete learning ecosystem
The value boost that assessment software can provide to your LMS is easy to see, but the real sticking point and barrier to making the jump is usually in how well the two technologies play together. After all, no one wants to disrupt the learning experience and negatively impact the user experience and engagement level.
We know that the best learning is that which puts the learner first which is why integrated systems that work in harmony with each other are so important to that process. With that in mind, we've spent decades perfecting our integration offering to amalgamate seamlessly with LMS's and elevate learning without the disruption.
One of our best examples is that of the Workday Learning LMS.
Questionmark Assessments & Workday Learning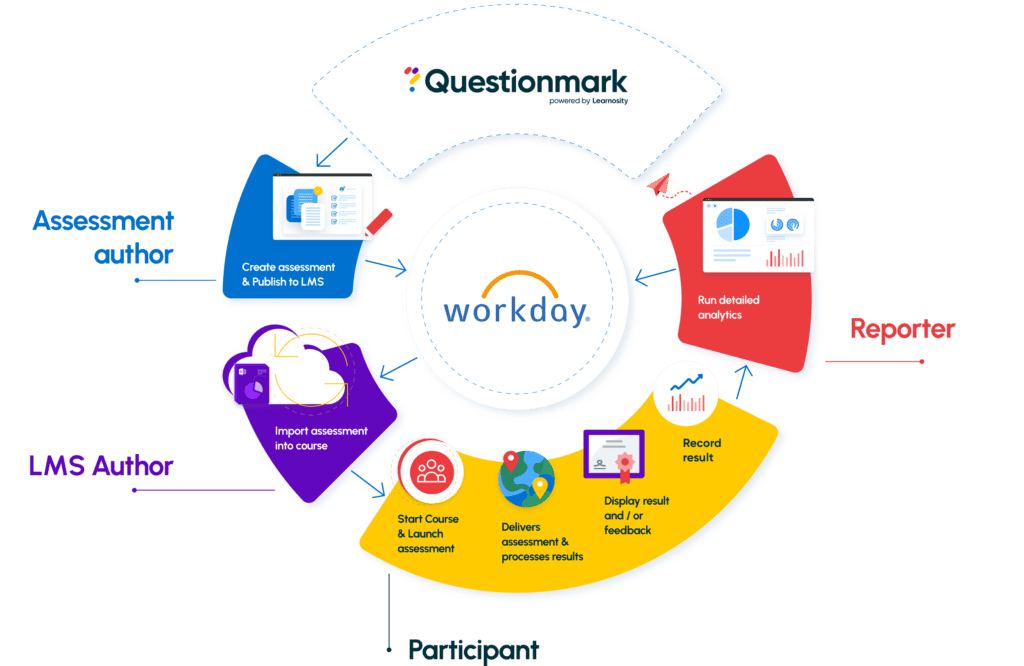 The Questionmark Assessments and Workday Learning integration demonstrates just how easily assessments can become part of your LMS ecosystem.
With three distinct integration options available (including out-of-the-box AICC + SSO via SAML set up), you can seamlessly embed learning into the employee lifecycle with personalized, flexible, and curated learning materials that are supported by robust and insightful assessments.
Not only does this integration provide configurable and automated data synchronization for deeper data insights, but it also allows for assessments to be launched straight from the Workday Learning environment making for an uninterrupted learning experience.
How launching assessments from the Workday Learning environment works
Launching assessments from Workday Learning takes a few simple steps and allows users to benefit from a seamless learning ecosystem.

Setting up the integration between Workday Learning and Questionmark is simple and fully supported by our expert solution team.
"Implementation was easy, the project team was very helpful throughout the entire process!"

Customer
For all the details on the options for how you can integrate Workday Learning and Questionmark, take a look at our handy fact sheet.

FAQ
Very often LMS's that feature assessment capabilities (many don't) can't provide the full extent and scope of what's necessary to truly dive into the data of learning. Assessment platforms come with a range of test formats, tools, reports and integrations to really dig into the data of training.
The integration process between Questionmark & Workday Learning has been developed and streamlined over years to be as simple as possible. Not only are there three types of integration (with the core one being an AICC content package)  but we also support you every step of the way to ensure you or a customer can get back to the work that matters as quickly as possible.
Minimizing test fraud is difficult and requires a multi-pronged approach. You can use our handy and free to access Test Fraud Checklist for Businesses to help comprehensively manage test fraud.