What is a Remotely Proctored Exam?
Remote proctoring, often referred to as online proctoring, is a method of protecting test integrity during remote or home-based exams and safeguarding against cheating. Traditionally this was achieved by proctors (sometimes known as invigilators) patrolling exam halls and test centers and monitoring students while an exam was in progress. With remote proctoring, however, this monitoring occurs online.
There are a few different types of remote proctoring, including:
Live Online Proctoring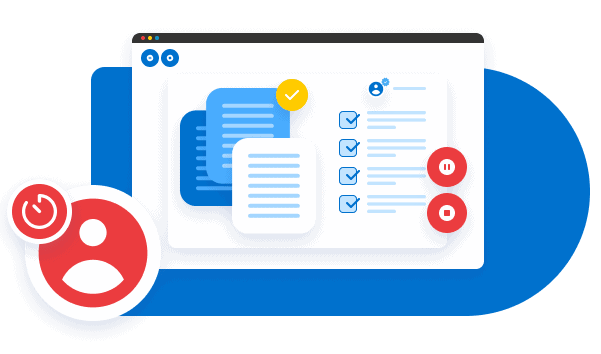 Online proctoring, or remote proctoring, is a common method of managing remote and home-based tests and assessments, allowing them to take place in a secure environment when the stakes are high. Remote proctoring is the most like-for-like proctoring solution if you're looking to move exams from physical test centers to online. The process allows a proctor to monitor the candidate through real-time audio and video as they progress through the exam.
The proctor can pause or terminate the exam if the rules are not followed, and the candidate may speak to the proctor at any time during the exam.
Automated Proctoring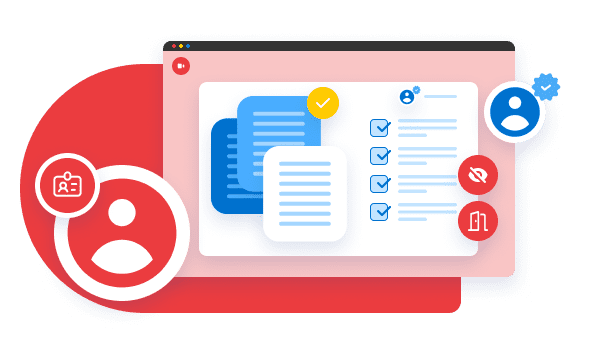 Automated proctoring, like Questionmark's Record & Review remote proctoring technology, is a means of monitoring a candidate online with some assistance from automated technology. For example, with a Record & Review remote proctoring option, the automated system observes and records the exam session on video for potential review later.
The system flags potential anomalies, such as a second person on screen and when an anomaly is flagged it can be sent for analysis by the relevant individual. This automated technology is sometimes described as AI proctoring, whereby the technologies involved incorporate algorithms that continually learn how to define and flag anomalies during an exam.
Some behaviors AI or automated remote proctoring solutions can flag are the presence of a second monitor, candidates looking off-screen, and audio anomalies among other things depending on the sophistication of the technology.
Process of taking a remotely proctored exam
The process of taking a remote proctored exam follows a general theme irrespective of the proctoring technology provider:
A test provider will send the candidate a list of requirements ahead of the exam, including any technical requirements and instructions to sign up to any particular portals or platforms. A systems test is often part of this.
Once a candidate is signed up to all necessary platforms they will then usually be asked to schedule their remote proctored exam.
Once the exam date and time arrives, candidates will log in to the necessary areas and be asked to show identification to the remote proctor.
Once the proctor is satisfied with the identification authentication they will ask for a room scan.
Once all security checks are complete, the proctor will allow the exam to commence, and a candidate can follow their on-screen prompts to begin the exam.
Technologies used in remote proctoring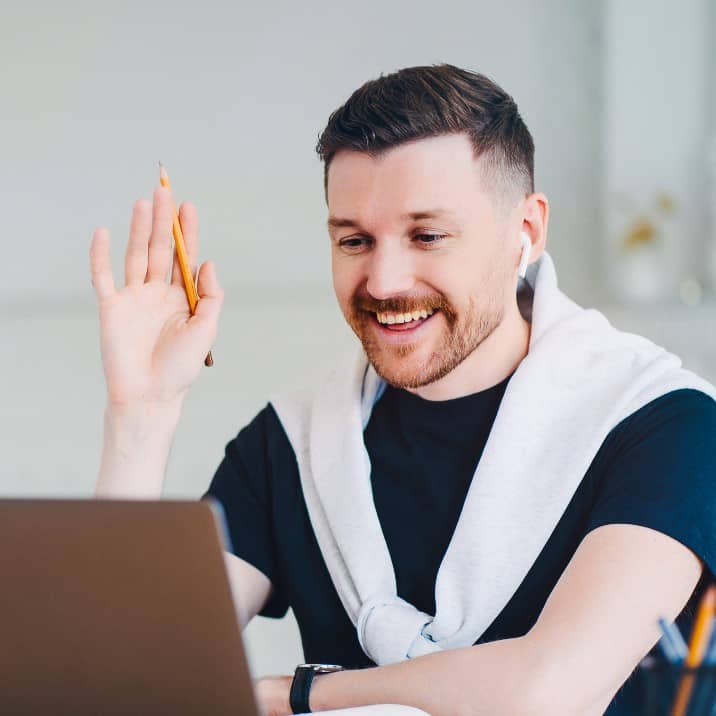 Remote proctoring entails many different technologies to ensure exam conditions are met and that the candidate can successfully complete the exam in a remote location. Invariably, some element of video and audio is used, either to monitor the candidate live or as part of a record and review process of analyzing the candidate's behavior after the exam has taken place. To increase security, other technologies such as locked-down browsers are also used to ensure test security is maintained.
Tips for test takers
When preparing for a proctored exam, there are a few things to keep in mind. To remove the risk of problems on the day, candidates should:
Take time to review the exam instructions well before the exam date.
Ensure all technical and system specifications are met. This will include ensuring you have the correct device, the correct operating system, and the ability to show the proctor a 360-degree view of the room you'll be sitting the exam in.
Be sure you have the correct ID documents requested by the test publisher.
Have any support emails or numbers to hand should you have a technical issue that the proctor cannot help you with.
The future of remote proctoring
The benefits of online remote proctoring to both candidates and test publishers mean that it will likely continue to be a popular method in the future. With a new era of AI capabilities on the horizon, it is also plausible that automated and assisted proctoring will only get more capable and prove to be a good aid to human proctors in identifying anomalies during exams.
Of course, there will be privacy and security challenges that go alongside this, but those challenges will remain very much at the forefront of all assessment companies' and test publishers minds.
Want to know more about Proctoring? Talk to us today.
Frequently Asked Questions
Remote proctoring allows candidates the flexibility of taking exams anywhere and often at any time. It also helps support candidates with accessibility issues, as they can take an exam from their own homes. For organizations running the exams, remote proctoring is often a much more financially beneficial option than a test center without compromising on security.
Very often when a remote proctored exam begins, the proctor will ask to see identification documents as required by the test publisher. Only if the candidate produces the correct items can the exam proceed.
The core item a candidate will need is access to a computer. It can vary depending on the proctoring solution, but often this can only be a desktop or laptop, with Ipads and similar devices commonly not viable. There will be specific system specifications and technical requirements needed, which can vary depending on the proctoring solution. A similarity most will share, however, is that the candidate will need to have a private room without any other person present, and they will usually be required to show the proctor a 360-degree view of the room.
Remote proctoring has to take into account different forms of potential test cheating such as candidates opening non-authorized tabs in their browser or having someone else in the room.
Yes, remotely proctored high-stakes exams are  quite common.
Where possible, a candidate can alert a proctor via audio or live chat functions who can run them through the next steps. Where not, a message to the test publisher with the relevant details is required, and allows the exam to be retaken where relevant. It's important for those taking tests to be familiar with the technical requirements needed before an exam to reduce the potential of issues occurring during an exam.