Determining the stakes of an assessment helps you plan it appropriately, allocate resources wisely and determine an appropriate security level for it.
You can identify low-, medium- or high-stakes assessments by considering their consequences to the candidate. An exam, for instance, normally has significant consequences while a survey has low or no consequences.
This chart displays the consequences of different types of assessments and other factors that help indicate whether they are low-, medium- or high-stakes: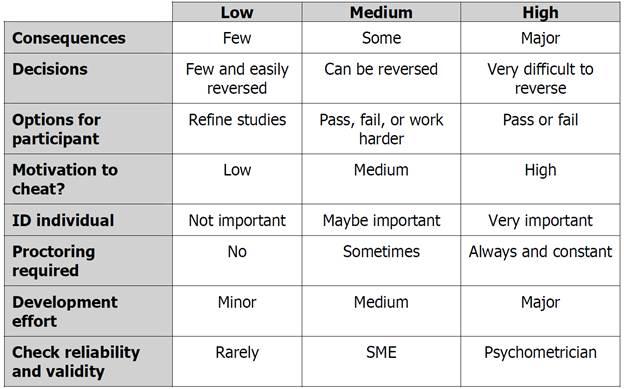 In low-stakes assessments, such as quizzes and surveys, the consequences to the candidate are low, and so the legal liabilities are low. These assessments are often taken alone since there isn't any motivation to cheat or share answers with others. Little planning is required: subject matter experts (SMEs) simply write the questions and make them available to learners. The consequences of low-stakes tests are easily reversed. If someone gets a poor score on a quiz, for instance, they could improve their score on a retake.
But what about the consequences of a high-stakes test, such as a nursing certification exam? It would very difficult, if not impossible, to reverse the consequences of failing such a test. This kind of test, therefore, requires a great deal of planning. This might include job task analysis, setting pass/fail scores, specifying the methods and consistency of delivery required, and determining how results will be stored and distributed. Psychometricians must analyze the results of such a test and ensure that it is valid and reliable. The motivation to cheat is high, so strong security measures – including the positive identification of each test taker – are in order. For example, high stakes tests related to national security might use biometric screening such as retinal scans to ensure that test takers are who they say they are.
Understanding the stakes of an assessment is an essential step in determining the steps you will take in authoring, delivery and reporting on it. For more details about assessments and their uses, check out our white paper, Assessments Through the Learning Process. You can download it free here, after login. Another good source for testing and assessment terms is our glossary.