As explained in our previous post Online or Test Center Proctoring: Which is Best?, a new way of proctoring certification exams is rapidly gaining traction. With online proctoring, candidates take exams at their office or home, with a proctor observing via video camera over the Internet.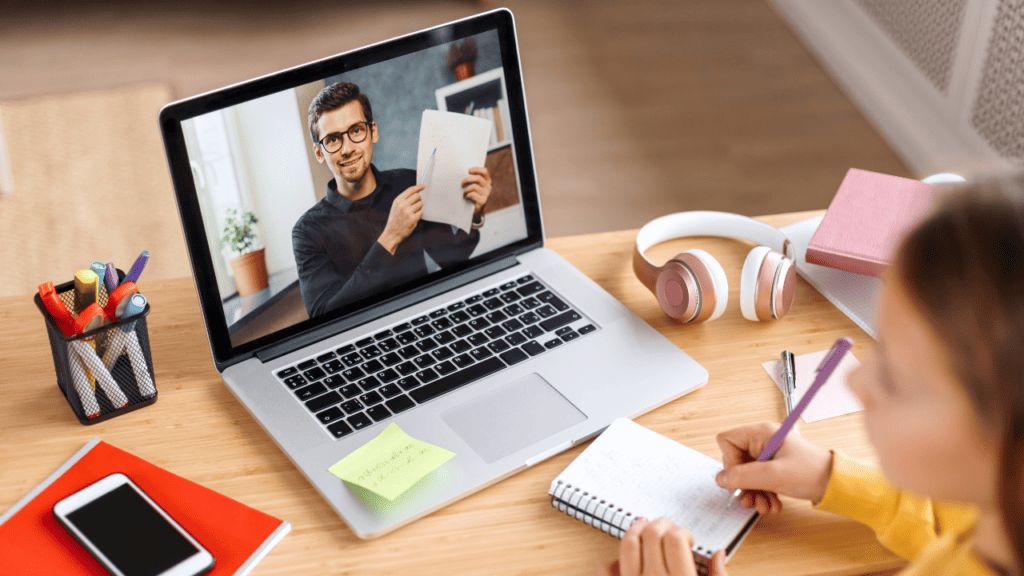 The huge advantage of online proctoring is that the candidate doesn't need to travel to a test center. This is fairer and saves a lot of time and cost. But how secure is online proctoring? You might, at first sight, think that test center proctoring is more secure – as it sounds easier to spot cheating in a controlled environment and face-to-face than online. But it's not as simple as that.
The stakes for a candidate to pass an exam are often high, and there are many examples where proctors at test centers coach candidates or otherwise breach the integrity of the exams process. A proctor in a test center can witness the same test being taken over and over again, and they can start to memorize, and potentially sell, the content that they see.  For example, according to a 2011 article in the Economist, one major test center company at that time was shutting down five test centers a week due to security concerns.
Test center vulnerabilities are not always as obvious as they are in this photograph, but they are myriad. This recent photo shows parents in India climbing the walls of a building to help their children pass exams, with proctors bribed to help. According to Standard Digital:
"Supervisors stationed at notorious test centres vie for the postings, enticed by the prospect of bribes from parents eager to have their wards scrape through."
Proxy test taking – where one person takes a test impersonating another – is a also big concern in the industry. A 2014 Computer World article quotes an expert saying:
"In some cases, proxies have been able to skirt security protocols by visiting corrupt testing facilities overseas that operate both a legitimate "front room" test area and a fraudulent "back room" operation.
This doesn't just happen in a few parts of the world: there are examples worldwide. For instance, there was a prominent case in the UK in 2014 where proctors were dishonest in a test used to check English knowledge for candidates seeking visas. According to a BBC report, in some tests the proctor read out the correct answers to candidates. And in another test, a candidate came to the test center and had their picture taken, but then a false sitter went on to take the test. An undercover investigator posing as a candidate was told:
"Someone else will sit the exam for you. But you will have to have your photo taken there to prove you were present."
This wasn't a small scale affair – the UK government announced that at least 29,000 exam results were invalid due to this fraud.
Corrupt test centers have also been found in the US. In May 2015, a New York man was sentenced to jail for being involved in fraud where five New York test centers allowed applicants for a commercial driving license to pay their way to pass the test. According to a newspaper report:
"The guards are accused of taking bribes to arrange for customers to leave the testing room with their exams, which they gave to a surrogate test-taker outside who looked up the answers on a laptop computer. The guards would allow the test-takers to enter and leave the testing rooms."
There are many other examples of this kind of cheating at test centers – a good source of information is Caveon's blog about cheating in the news. Caveon and Questionmark recently announced a partnership to generally enhance the security of high-stakes testing programs. The partnership with Caveon will also provide Questionmark's customers with easy access to consulting services to help them enhance the security of the exams.
Of course, most test center proctors are honest and most test center exams are fair, but there are enough problems to raise concerns. Online proctoring has some security disadvantages, too:
Although improvements are being developed, it is harder for the proctor to check whether an ID is genuine when looking at it through a camera.
A remote camera in the candidate's own environment is less capable of spotting some forms of cheating than a controlled environment in a test center.
But there are also genuine security advantages. It is much harder for an online proctor to get to know a candidate to be able to coach him or her or receive a payment to help in other ways.
Because proctors can be assigned randomly and without any geographic connection, it's much less likely for the proctor and candidate to be able to pre-arrange any bad behavior
All communication between proctor and candidate is electronic and can be logged, so the candidate cannot easily make an inappropriate approach during the exam.
While test center proctors have easy access to exam content which can lead to various types of security breaches, online proctors can be restricted from viewing the exam content through the use of such technologies as secure browsers.
Because there is less difficulty and cost involved in online proctoring than when the candidate travels to a physical test center, it's practical to test more frequently– and this is a security benefit. If there is frequent testing, it may be simpler for a candidate to learn the material and pass the test honestly than put a lot of effort into cheating. If you have several exams, you can also compare the pictures of a candidate at each exam to reduce the chance of impersonation.
In summary, the main reason for online proctoring is that it saves time and money over going to a brick-and-mortar test center. The security advantages and disadvantages of test center versus online proctoring are open to debate. Dealing with security vulnerabilities requires constant vigilance. With new online proctoring technologies enhancing exam security, many certification programs are now transitioning away from test centers. Traditionally a test center was a secure place to administer exams, but in practice, there have been so many incidents of proctor dishonesty over the years that online proctoring is likely justifiable for security reasons.